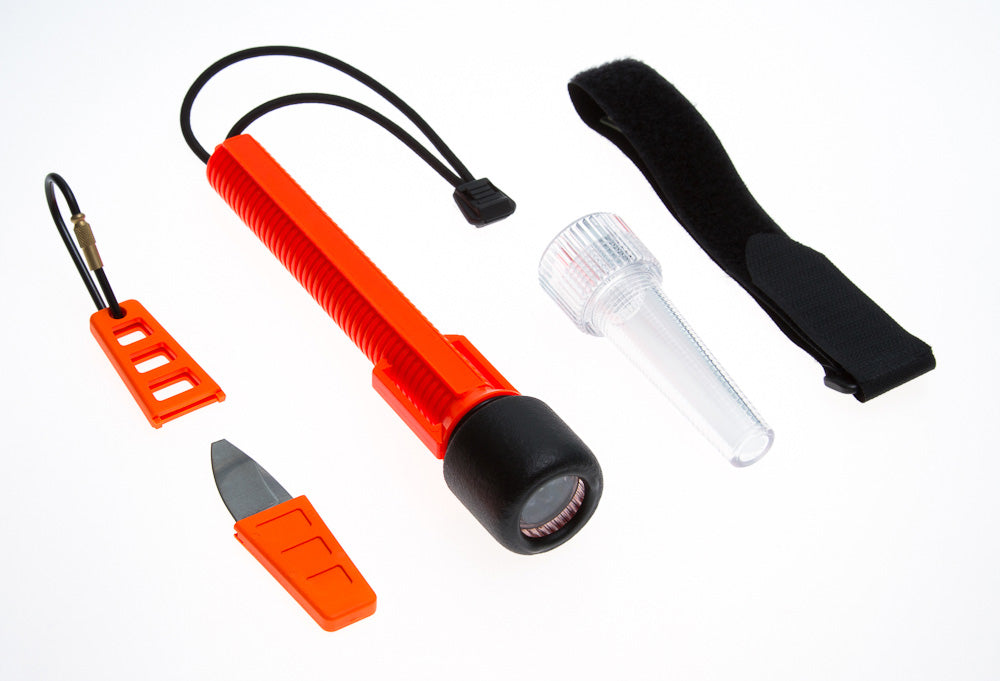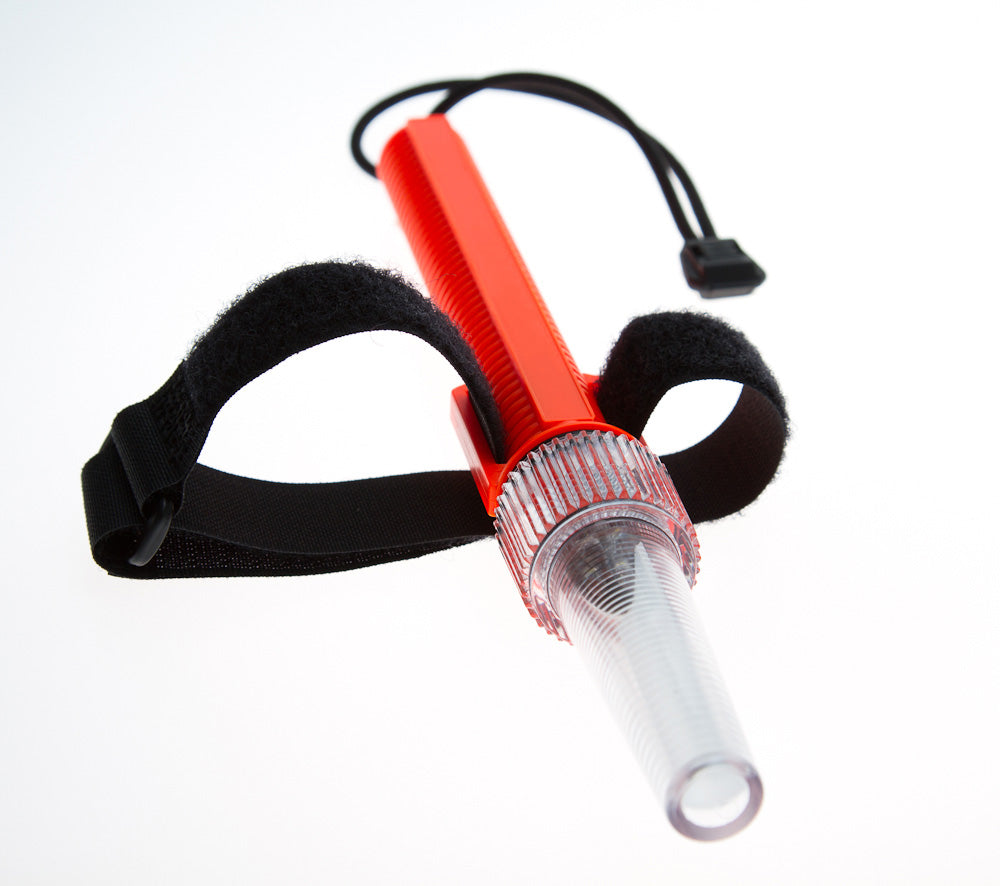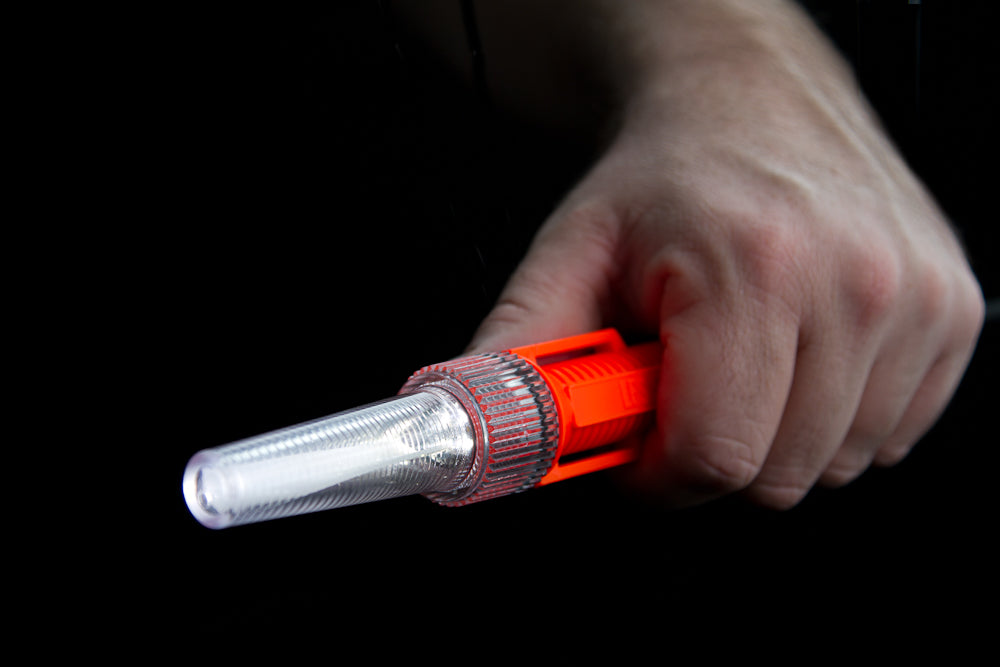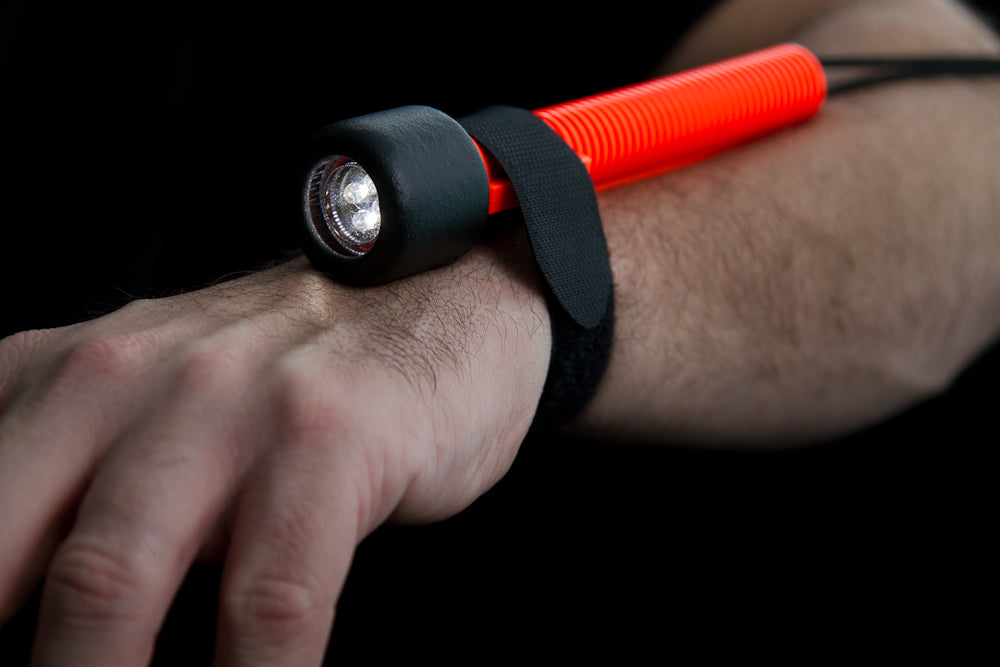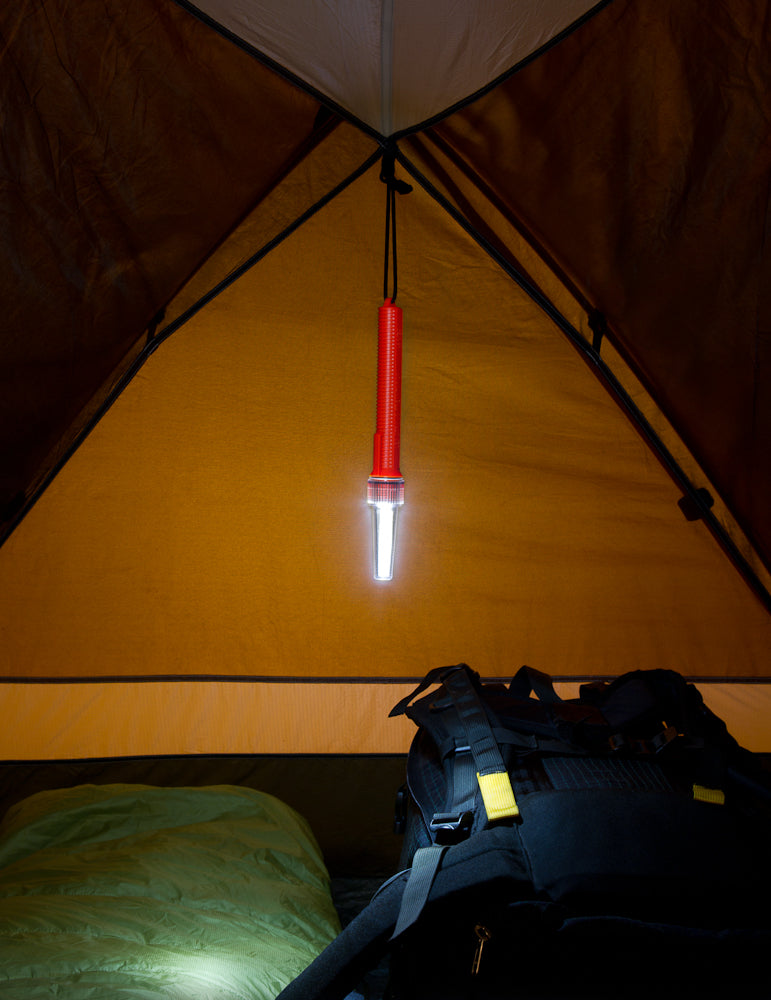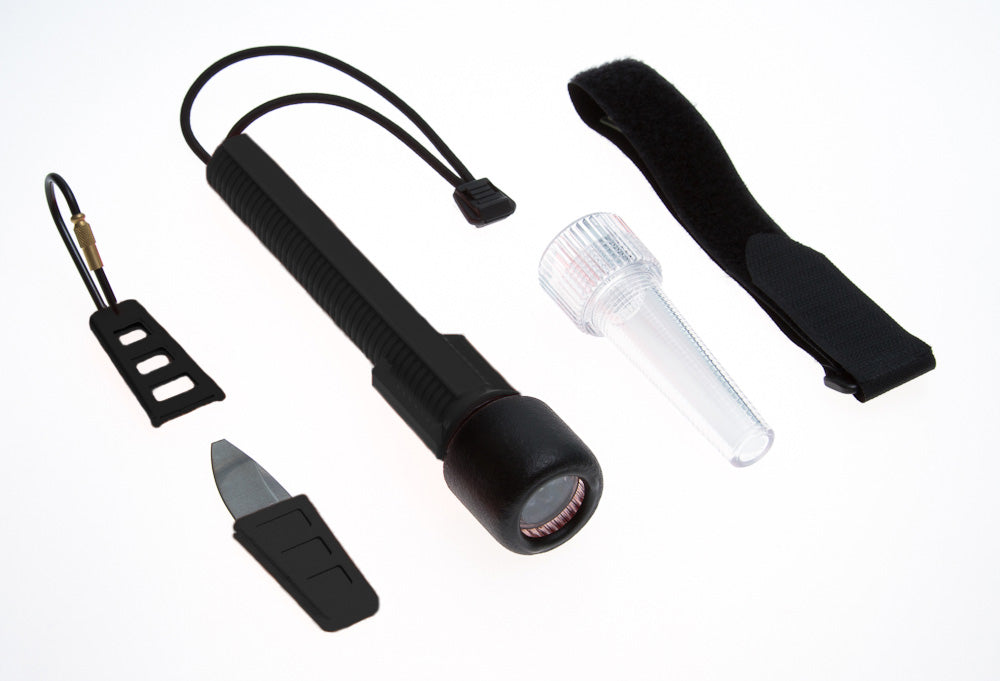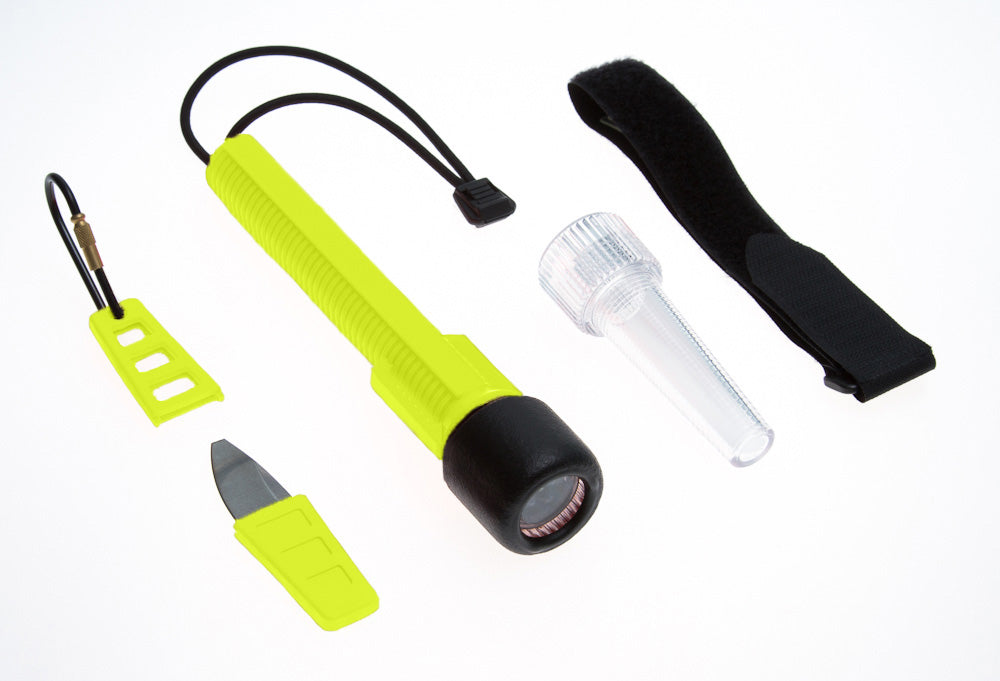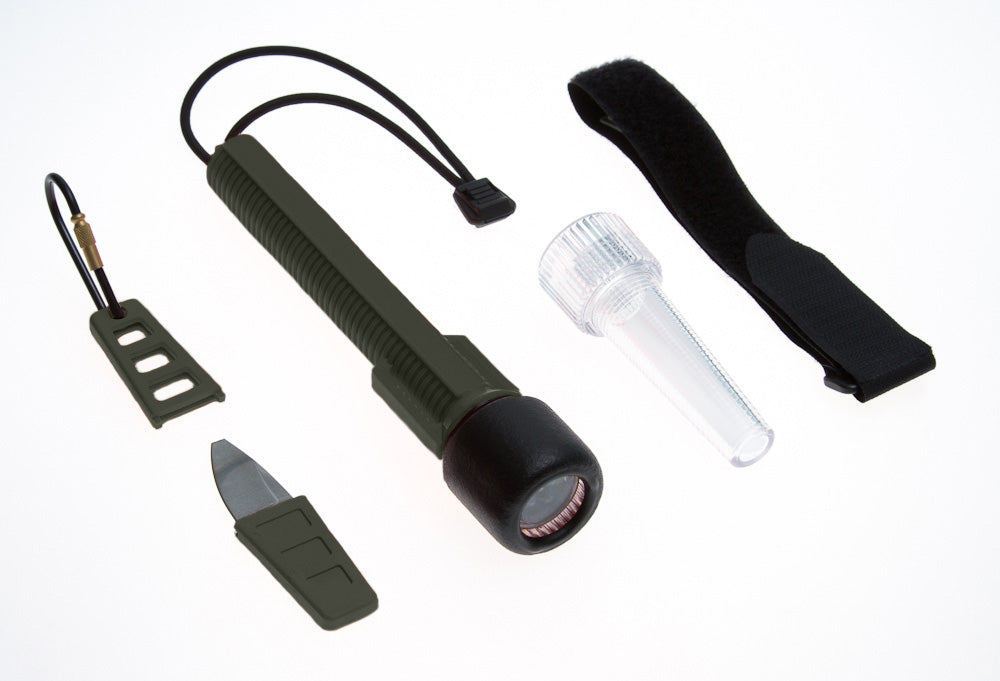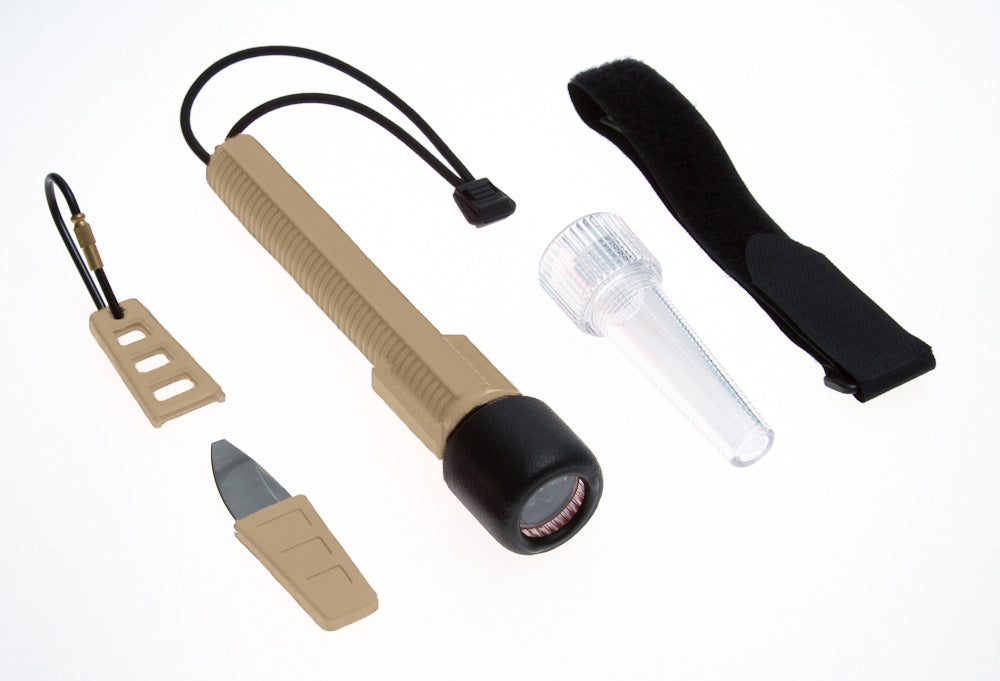 Trek Torch Combo Kit
---
Long lasting and durable, the Trek™ Torch Flashlight Kit is designed to be an outdoor enthusiast's close companion. A versatile light every diver should own.
The kit contains:
Trek™ Torch LED flashlight
TEKNA® Xtra Edge key ring knife with blunt screwdriver tip
Clear candle lens light diffuser
Bungee lanyard
Velcro attachment strap
Glare guard/Stand Up Candle Stand
The rugged LED flashlight provides over 100 hours of usable light from 3AA batteries and enough illumination for executing tasks in the dark. Switch out the flashlight lens with the clear candle lens light diffuser to create a wand-type lighting device which is great for creating stationary, ambient light. Use the bungee lanyard and Velcro attachment strap to attach the Trek™ Torch to your pack, your hand/arm, hang it up in your tent and more. Perfect for Hurricane Preparedness, Mechanical, Dive Gear Bag, around the house and in your vehicle.

The Trek™ Torch:
The Trek™ Torch is built to Military Spec and is used worldwide by NATO forces. It provides more than 20 hours of light from 3 AA batteries plus more than 80 additional hours of usable light, giving you all the light needed for short-range tasks. This 2-LED light is an extremely rugged light and will never need a bulb replacement since its LEDs last 10,000+ hours. Double O-ring seals give this waterproof light an underwater depth rating of 1,000 feet. Easy twist on/off operation.
Trek™ Torch Specifications:
Depth Rating - 1,000 feet (300 m)
Lamps - 2 LEDs
Lamp Life - 10,000+ hours
Burn Time - 100+ hours
Batteries - 3 AA Alkaline
Power - 38 Lumens 
CE
Materials - ABS and LEXAN
Dimensions - 7.37" (19 cm) L x 1.25" (3 cm) Diameter,
Weight - 0.28 lbs. (0.13 kg)
U.S. Patent #6,168,288
The TEKNA® Xtra Edge™:
The TEKNA® XTRA EDGE™ is a superb choice as a watersports, pocket, neck, or keyring knife. Hang one on your PFD, harness, or BC for watersports use to keep an extra edge handy. 
The blade is unobtrusively stored in a twist-loc sheath. Its blade is made of 420HC stainless steel, which provides increased toughness and better edge holding, proven in millions of premium blades. The flat screwdriver tip is useful on most flat and phillips screws, for added utility.
The sheath/handle is made with TEKNALON™ CFTRP, our propriety fiber and Titanium reinforced engineering polymer, these parts also provide enhanced toughness and strength over to the knife.
Overall length 3-1/2"  Blade length 1.4". Includes a nickel-plated carabiner-type keyring. Carefully crafted in the USA.